Semi-automatic machines for plastic strapping and steel
Strapping of many products is made with a hand tools and well often requires the use of 2 operators to achieve an effective result. The installation of a strapping lance saves undeniable productivity in relation to the strapping operation. Only one operator is needed to easily pass the strapping around the package, the final strapping tension being made by a motorized strapping FROMM tool.
The tool is normally suspended from a suspension bow attached to a balancer mounted on a stem.The strapping a lance investment remains very modest and justified by further substantial cost saving.
EFS/EFP
Strapping type semi-automatic machine launches strapping for packages of sheet-metal sheet steel or PET.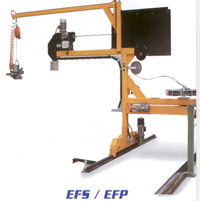 Dimensions
W 600 - 2200 mm - H 30 à 600 mm
Strapping qualities
Polyester (PET) or steel
Strapping widths
19 mm - can work too with 25 or 32 mm
Strapping thicknesses
0.7 until 1.35 mm
Strapping tension
fonction du type d'outil
Méthode de fermeture
matriçage pour l'acier / friction fusion pour PET
Depending on the type of tool