STARstrap™
New by FROMM
As a leading manufacturer of quality tools and equipment for various types of strapping products, FROMM has started production of STARstrapTM Polyester strapping in its new plastic production operation in Kölleda (Thuringia) Germany.
STARstrapTM is manufactured on state of the art extrusion lines in a new plant equipped with quality control-and test machinery ensuring a high standard of quality.
FROMM produces all common commercial sizes of strap guaranteeing a perfect performance of its tools and machines.
Expensive warehouse facilities and a professional logistic operation allow FROMM to respond quickly to the market needs.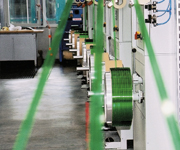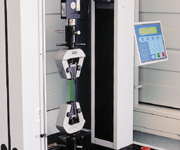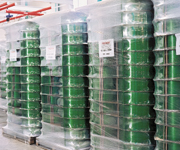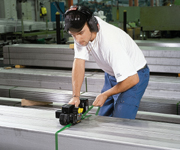 STARstrapTM substitutes Steel Strapping
STARstrapTM Polyester strapping offers excellent mechanical features such as high breaking strength, outstanding elongation and perfect tension retaining capabilities.
These characteristics result in :
Hight shock absorption in case of impacts during transportation
Strap tension remains tight in cases where package may shrink during storage or transportation.
Substitution of steel strapping by STARstrapTM Polyester strapping allows the use of a strap with less breaking strength
reduced material costs 
Comparison shock absorption capacity